Wastewater Treatment Methods
Applying proprietary wastewater treatment technologies, we make proposals based on the treatment methods optimal for each customer's needs.
Combining the Oppenheimer Formula, a complex biopreparation that excels in breaking down oil and VOCs, with proprietary treatment methods enabling high-efficiency wastewater treatment even in environments with little space, we provide treatment solutions optimized for each customer's needs and circumstances.
Oil Contamination Treatment
Cyclonic Bioreactor System
The combination of the Oppenheimer Formula, a complex biopreparation with excellent oil decomposition capabilities, and a proprietary bioreactor* that applies the properties of oil makes for a system that efficiently treats oil contamination. Inside the bioreactor a pump creates a vortex, stirring a mixture of contaminated water and microorganisms to promote the decomposition of oil by increasing its exposure to the microorganisms. Subsequent settling and filtering processes complete treatment of the contaminated water. The entire treatment process, from the input of contaminated water to the outflow of treated water, takes place within sealed tanks to prevent the release of any harmful substances.
* Bioreactor: The general term for equipment that uses a biocatalyst to cause a biochemical reaction.
Cyclonic Bioreactor System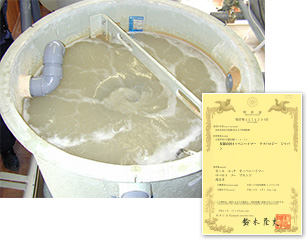 The cyclonic bioreactor system pictured here is a patented product of BioRangers, Inc. (Patent No. 4274596).
Cyclonic Bioreactor System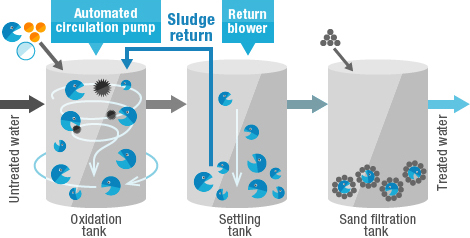 1. Oxidation Tank
Inside the oxidation tank a pump effectively stirs the mixture of oil, biopreparation, microorganism nutrients, and oxygen to promote the decomposition of oil by microorganisms. Biopreparation and microorganism nutrients are periodically added to the tank to ensure stable biodecomposition.
2. Settling Tank
The settling tank is where microorganisms are separated from treated water. The sludge that settles out of the treated water is returned to the oxidation tank to ensure a stable volume of microorganisms there.
3. Sand Filtration Tank
The purpose of the sand filtration tank is to capture the cell bodies of microorganisms on the surfaces of sand grains, and to remove all traces of oil from the water being treated. Trapping organic matter arising from the decomposition process purifies the treated water.
Treatment of Hydrogen Sulfide and Other Water Contaminants
Addition of Biopreparation and Alteration of Existing Facilities
We add biopreparation to existing wastewater treatment facilities to reduce organic sludge, and eliminate foul odors. To maximize the effectiveness of the biopreparation, and economically improve environmental hygiene, we can modify existing wastewater treatment facilities.
Biopreparation Effectiveness in Treating Wastewater