HOME
> BioRangers' approach
With Oppenheimer Bioremediation, pollutants are cleaned up safely and reliably.
BioRangers is an organization of experts with a wealth of experience in using bioremediation to clean up contaminated soil and groundwater.
We perform our bioremediation work with a complex biopreparation, the Oppenheimer Formula, which has been shown in countless cases inside and outside Japan to be highly effective in breaking down oil and VOCs. As the only company in Japan to use this biopreparation, we employ a unique remediation approach, which we refer to as "Oppenheimer Bioremediation," to safely and reliably remediate soil and water, and restore ecosystems.
Remediation via Oppenheimer Bioremediation


Bioremediation can be undertaken via two approaches. In "biostimulation," nutrients are added to the soil in an attempt to invigorate microorganisms already present. With "bioaugmentation," on the other hand, microorganisms themselves - cultured off-site - are added to the soil.
Biostimulation was often used in the past, but with no assurance that the microorganisms already in the soil were the best to perform remediation work, results were mixed.
The point of bioaugmentation is to focus on the pollutants and apply the microorganisms most effective for remediation. Taking this approach results in the reliable breaking down of pollutants and remediation of contaminated soil.
BioRangers uses the bioaugmentation approach to bioremediation.
Comparison of Biostimulation and Bioaugmentation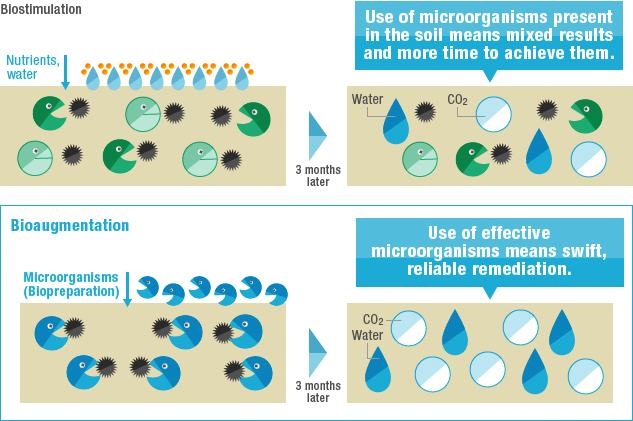 Oil, VOCs and other pollutants are chemical substances each formed from a different composition of carbon, hydrogen, and other elements. The term "oil," for example, covers many different chemical compositions and it is not unusual for contamination of soil or water to involve more than one.
The Oppenheimer Formula used by BioRangers is a complex biopreparation composed of various microorganisms that exist in the natural world. Because these microorganisms are each best at neutralizing a particular type of oil or VOC, the Oppenheimer Formula is capable of breaking down a wide range of oils and VOCs.
Oppenheimer Formula Decomposition Test Results
Decomposition Test Results for
Various Types of Petroleum Products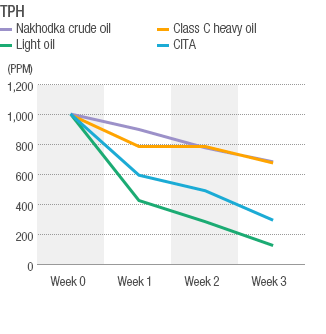 Pre- and Post-Treatment Structural Changes (Standardized on pre-treatment structural compositions as 100% benchmarks.)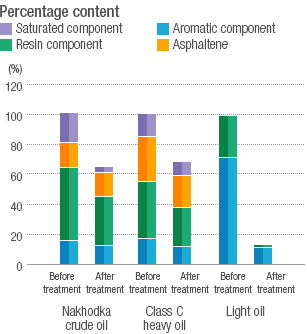 The Oppenheimer Formula boasts the world's strongest track record in bioremediation of oil contamination and appears on the US Environmental Protection Agency's National Contingency Plan Product Schedule. Its effectiveness and safety are supported by its robust record of performance.
In Japan, application of the Oppenheimer Formula in over 300 bioremediation cases and its adoption for use in numerous publicly supported research projects attest to the serious interest it is attracting as a safe, effective remediation approach for oil contamination.
Key Events in the History of Oppenheimer Bioremediation
| Year | Country | Description |
| --- | --- | --- |
| 1990 | U.S. | Application at the site of the Mega Borg explosion |
| 1997 | Japan | Application at the site of the Nakhodka heavy oil spill |
| 2003 | Japan | Participation in a Ministry of the Environment environmental technology test model project |
| 2006 | Japan | Registered in the Ministry of Land, Infrastructure, Transportation and Tourism NETIS system |